Review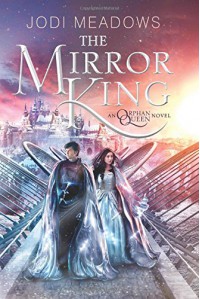 This book picks up right where The Orphan Queen left off and the action never stops. I was holding my breath so much while reading this book. Tensions are already high with the coming destruction of the wraith and now Wil's identity has been revealed to everyone in the Indigo Kingdom and she struggles as she tries to control her magic and take back control of her kingdom.
Wil is a continuously growing character. She wants to be the queen that her people need but she's struggling with how to become that person. How do you go from being an orphan, living on the streets and fighting to survive to being a queen and being responsible for an entire kingdom? She manages, but not so gracefully at first. It's a learning experience for her and her friends as they navigate how to run a kingdom and deal with the wraith.
Wil and Tobiah's relationship is what made this story for me. I'm not big on romance but I just couldn't help it with these two. No matter the obstacles that get in their way they keep coming back to each other. And Tobiah's list at the end was just...Wow... I cried happy tears.

I am so glad we got to see more of James in this book! The mystery surrounding his miraculous healing in The Orphan Queen is finally revealed and I was completely blown away. Did not see that coming. I can't say much without spoiling the ending but James is a true hero with unyielding loyalty for those he cares about. The wraith boy, Chrysalis, worked his way into my heart. He is like a child, only wanting to please but he goes about it the wrong way and without thinking of the consequences. He was so devoted to Wil. I wish she would have showed him a little more attention because that's all he really wanted. I can't help but wonder if she HAD shown him more affection, would he have acted differently? Grown more compassionate and sympathetic, even more human? The ending was perfection. The entire book was a whirlwind of emotions. Of love and loss. Of adventure, action, magic and best of all, hope. This is one of those series that will stay with me for a long time.
-BW